Brembo Brake Conversion
Brembo brake calipers, the ultimate in factory fitted brake systems. Famously coloured gold on the Subaru Impreza WRX STI with a large 4 pot front caliper and a 2 pot rear. Larger and lighter than the standard calipers these are a very popular and excellent upgrade to your Subaru. We offer kits and accessories to make this task quite a lot easier which you can buy here:
BRZ Brembo Brake Conversion Kit:
http://www.gotitrex.com.au/brembo-sti-front-and-rear-brake-kit-new-suit-brz-w
PCD100 Brembo Brake Conversion Kit:
http://www.gotitrex.com.au/brembo-front-brake-kit
Rear Brembo Caliper Bolt:
http://www.gotitrex.com.au/wrx-sti-brembo-rear-brake-caliper-bolt-901120102
Front Brembo Caliper Bolt:
http://www.gotitrex.com.au/wrx-sti-brembo-front-brake-caliper-bolt-901120103
Here is a run down on what they require to be fitted and operate correctly. Upgrading and altering brake systems can be very dangerous and should only be carried out by a professional.
Firstly
Brembo calipers require a larger offset rim to house the front calipers, otherwise they will foul on the caliper face, an option to over come this is to use wheel spacers, which come in many sizes and are generally multi fit and cheap to buy, just be careful that by using the wheel spacer you have left enough thread for the wheel nut to lock onto the stud. Seek professional advice for this.
Front calipers
The front calipers and rotors will fit straight on to your standard hubs on all Subaru liberty, foresters and Imprezas, On some models the backing plate might foul the inside of the larger brembo disc but this can be easily removed with a few bolts. Brembo calipers use a different thread pitch so the correct bolts will also be needed to be used to mount them. The Brake lines will also be needed as they are different to any others available on Subaru's or many aftermarket performance options are available.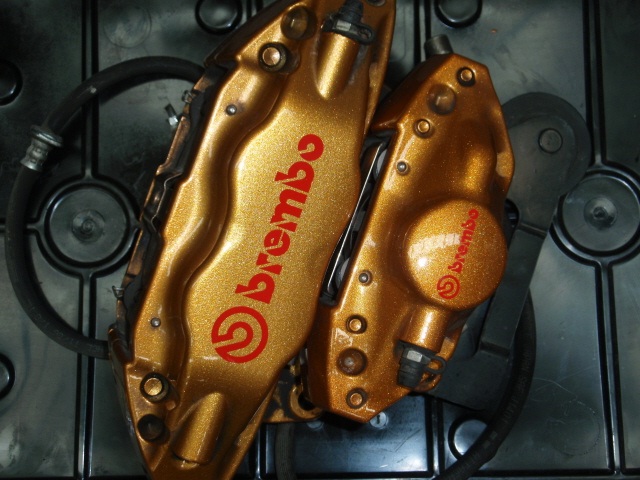 Rear Calipers
To Fit the rear calipers there are a few different ways you can go about this. The first way is to use adaptor brackets which are commonly know as dogbones. These dog bones help give the brembo caliper the offset it needs from the original hub to house the larger diameter and width disc.
We have these adaptors in stock and are high quality and made of 4140 automotive grade hi tensile steel. You will need the retro fitted rotor for the conversion to be successful where the rotor still uses the standard handbrake drum diameter but has the thicker and larger diameter surface for the brembos, these rotors are also available through us.
The adaptor brackets will only work on rear hub backing plates which have the standard single pot caliper set up, bolts are supplied for the brackets however the adaptors can be used to convert either to brembo or Subaru 2 pot caliper set up as it is the calipers which have the different mounting length which is needed for both rear sized discs.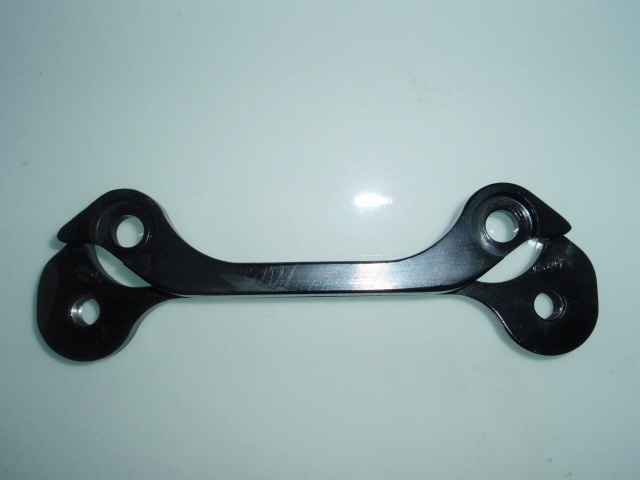 Dogbone Adapter
SINGLE POT REAR CALIPER TO BREMBO
(standard on rear of all Subarus until current model except wrx, WRXs from 2000 on have 2 pots.)
If you are using the original hubs and backing plates you will have to remove the spot welded backing plate on the rear hubs as this fouls the discs for both conversions. Rear brake lines from brembos must be used as they are different.
R180 BREMBO REAR HUB
Alternatively you can upgrade to the R180 spec rear hubs from an 01 on sti and these will fit the brembos straight on with out modification, the standard brembo disc can be used then as the larger hand brake is utilized but bare in mind that the hubs require the r180 shafts and diff as they are a larger diameter on the splined section, read the r180 conversion for more information on this conversion.
2 POT REAR SUBARU CALIPER TO BREMBO
If converting from 2 pot rear Subaru calipers to brembos you will have to remove the backing plate and then the brembo discs will fit on. Rear discs will be required as in the single pot to brembo conversion as the smaller diameter handbrake drum is still required.
The fitment should be carried out by a qualified technician that has experience in field. This information should only be used as a guide only.